Reservations & Information
Reservations
For reservations, please call 317-638-5588.
Large Parties
We have excellent seating for large parties. All parties of 6 or more people will have all items on one check with a 20% gratuity added. We do our very best to accommodate every group; due to demand our large party seating can be limited on weekend nights.
Music
Our music selection is variety of upbeat tempo music played until late.
Dress Code
While there is no enforced dress code, we are a quality establishment and many of our guests view Nicky Blaine's as an occasion above the rest. Your dress is at your discretion. We do have the right to prohibit your entrance based on your appearance.
Banquets & Room Reservations
We have been the host to many exclusive events, from political fundraisers to social events and corporate functions. We are happy to reserve a section of our club for your party needs on Monday-Thursday night, until 9 p.m. All parties over 30 people require a $500.00 non refundable deposit, which will go towards your final bill.
We have an extensive banquet selection which you can tailor to meet your party needs.
Gift Certificates
Gift Certificate Sets now available at Nicky Blaines! Comes with our gorgeous stationery card, a gift certificate and invitiation style envelope. For more information please call 317.638.5588. We do not mail gift certificates.
Past Events
New Year's Eve is celebrated at Nicky Blaine's every year.
Join the party! A great evening either for a special date night or for a group of friends. Party favors and a Champagne Toast are included in the New Year's Eve cover charge.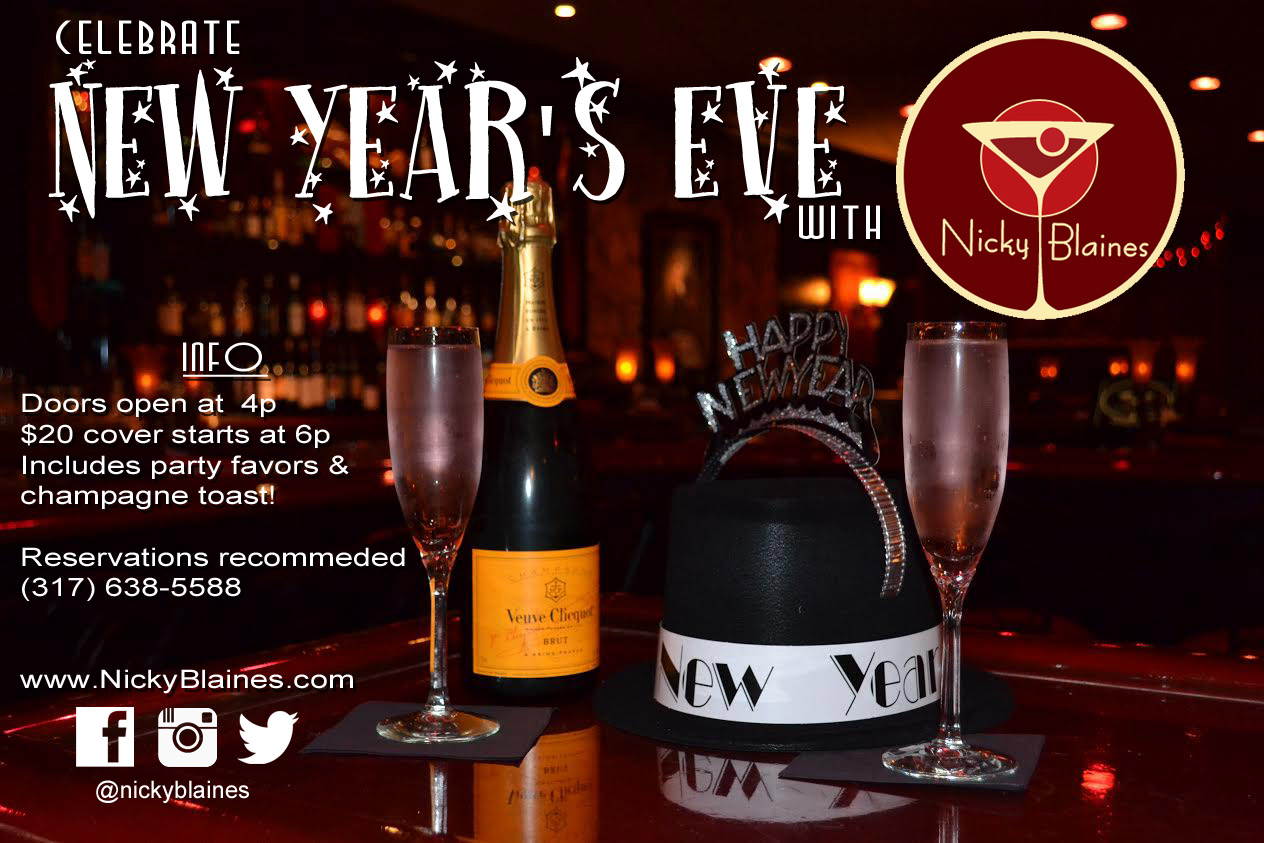 Valentine's Day
Valentine's Day is one of the biggest nights at Nicky Blaine's from new couples looking for an intimate evening, or couples returning to the location of their first date. Take a look at the write-up of Valentine's Day past on the excellent EatDrinkIndy blog.